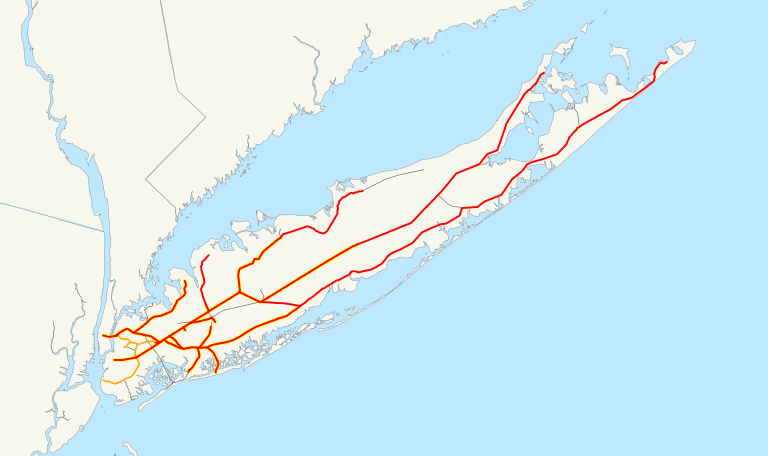 There's so much to love about Long Island. The North Fork, the South Fork, and everything in between, north and west. There's a lot you may not know about this piece of land that begins at the New York City border (Queens) and stretches 118.1 miles east into the Atlantic Ocean. That being said, Long Island is unoffically composed of Nassau and Suffolk counties. We'll leave Brooklyn and Queens for another article, and so this article will focus on these jsut Nassau and Sullolk, which alone make up a plethora of culture and history.
In a Nutshel
You can always find an affordable home or apartment to live in, from middle-income to high-end luxury living, as seen in communities like Muttentown and Old Wesbury. Of course, there are also communities that require some financial help, and Nassau and Suffolk legislators are up to the task. 
Whether you plan to visit or reside here, these ten things are sure to impress and inspire you. Read on for insider tips and insights.
Take a Trip to the Hamptons for a Fun Escape
You can't go wrong with the Hamptons. Just about 90 minutes from Manhattan, the Hamptons has a vibe all its own. Long Islanders flock to these towns located near the eastern tip of the peninsula for the beach, and great restaurants and we can't leave out the lively nightlife. 
There's no shortage of bars, restaurants, and shops to enjoy in the Hamptons. You'll find everything from hip rooftop bars with stunning views to casual waterfront eateries. There are also some great events and festivals to attend in the Hamptons too.
Take a walk down Southampton's Main Street and visit the quaint shops and fine restaurants, and while you're there, relax at Cooper's Beach for the day, but be careful of the traffic laws in this town, and don't forget about East Hampton, West Hampton, and Sag Harbor. 
If you don't feel like traveling to the eastern end of Suffolk County? There is the popular Jones Beach. A stretch of 6.5 miles of beautiful beach. 
Best time to go – the summer months.
Don't Miss Long Island's Renowned Restaurants
Nassau and Suffolk counties have restaurants that are sure to impress. There are so many different cuisines and styles to choose from, and for every budget and style around, so you're sure to find one you love. 
You can enjoy everything from Chinese and Japanese cuisine, to seafood, Italian, and more. Stop by any bagel store for a nice breakfast or go for pastrami sandwiches at a kosher deli or how about a Jamaican patty at any of the Caribbean restaurants located throughout the island? 
Did you know that middle eastern food is some of the healthiest foods? Don't leave LI without stopping by at least one.  
Trip Advisor has a great list of restaurants to choose from and let's not forget about the famous Peter Luger Steak House in Great Neck!
No Shortage of Museums
Long Island has museums that people from all over come to visit. If you enjoy the history of aircraft, check out the American Airpower Museum, then take a 15-minute ride west to Museum Row and continue with the American Airpower Museum, and while you're there, drop by the Children's Museum and the Fighfighter's Museum just walking distance from each other. 
Sagamore Hill National Historic Site is Teddy Roosevelt's former home. Don't leave Long Island without a visit to this historic site! 
Interesting Tidbit – When Teddy Roosevelt was bear hunting, he felt out of luck because he couldn't locate one bear to shoot, so his buddies caught a bear and tied it to a tree. They told Roosevelt to shoot it. He refused for obvious reasons; however, that incident went viral and this is why they called these cute little stuffed animals our children play with today 'Teddy Bears'.
OK back to museums. Like dinosaurs? Visit the Center for Science Teaching and Learning at the Tanglewood Preserve in Rockville Center.
If dinosaurs are not your thing? What about art? Take a ride to Roslyn Harbor to visit the Nassau County Museum of Art! 
Long Island is also home to some great universities, like Hofstra University, Adelphi University, and SUNY Stony Brook, that host lots of events, exhibitions, and programs where you can immerse yourself in the local culture.
Are you more of the outdoors type? Spend the day at Old Westbury Gardens. And then there is the Vanderbilt Museum which is listed on the National Register of historical parks. You won't be disappointed.
Star gazes won't be disappointed. Go to Robert Moses State Park and bring your telescope for a clear night view of the stars over the Atlantic Ocean. You will need a permit though.
Visit the Wineries and Breweries 
Long Island is fast becoming known for its growing craft beer and winery scene. You can find these favorites in every corner of the island, but there are a few that stand out as premier destinations. foodandwine.com provides details of some of the most popular wineries in Nassau and Suffolk counties.
Stay in Luxury When You Visit Long Island
Long Island is a place where you can truly indulge. You have a wide range of luxurious hotels to choose from, from beautiful resorts to luxury properties. Whether you're visiting for business or pleasure, you're sure to find something that's perfect for you. 
If you're visiting the North Fork, you can stay at one of many vineyard hotels, like the Inn at Barnum Vineyards or the Vineyard Hotel. If you're looking to stay on the South Fork, there are plenty of luxurious resorts to choose from, like The Yacht Club Hotel and Gardens, or The Southampton Inn.
Explore History on Your Trip to Long Island
Long Island houses many historic sites, landmarks, and museums that are sure to impress. You can visit the Theodore Roosevelt Memorial, the Long Island Maritime Museum, the Cold War Veterans Memorial, the Long Island Museum of American Art, History, and Carriages, and more. 
Don't forget to explore outside of Long Island too!
New York City is just east of Long Island, so if you're coming from a distance away, you can easily put NYC on your list if you happen to come to LI.  
Enjoy the Beautiful Scenery, Year-Round
Before we talk about anything else, let's just appreciate how beautiful the island is to enjoy year-round. It's the southernmost barrier in the New York City metropolitan area, so unlike many other places in the state, it's not too cold to enjoy during the winter months. 
In fact, winter is one of the ideal times to come here, if you're looking for the perfect escape from the city. There are many scenic places to visit for waterfront views, including the Long Beach boardwalk, Jones Beach boardwalk, and the Nautical Mile in Freeport. So no matter what time of year you go, there's sure to be plenty to see and do.
Conclusion
There's no doubt Long Island is a wonderful place to visit. This east coast gem has much to offer travelers and residents alike. With so much to explore, you'll never run out of things to do, places to discover, and people to meet. So be sure to mark your calendar and mark Long Island, New York as your next travel destination. It's a trip you won't regret.
The businesses listed in this article are for informational purposes only. Patricia Scanlan does not have any financial association with these entities.