Overview

If you live in Long Island and work in Manhattan and are not interested in drudging along the Long Island Expressway to work each day, there is an alternative: the LongLong Island Expressway to work each day, there is an alternative, and that is the Long Island Railroad. But you already know that and are one of the thousands of people that ride this line daily.
All Points to Penn

Known as one of the oldest, busiest, and most famous commuter rail lines in the country, the Long Island Railroad (LIRR) had a ridership of 49,167,600 people in 2021. That's approximately 33,000 every weekday. Established in 1824, the LIRR has 12 lines, going to 124 stations with a central hub at Jamaica, Queens. All originate at Pennsylvania Station in Manhattan and spreads out across Nassau and Suffolk counties to the easternmost end of the island. 
A Brief History of the LIRR
The LIRR began as a privately owned company in 1830, called the Brooklyn & Jamaica (B&J) Railroad Company, but the company didn't last long. In 1834, The Long Island Rail Road Company was formed.
1850
Fast forward a couple of decades and following a trainload (pun intended) of problems, the LIRR company had to file for bankruptcy. Mainly because another railroad was causing competition for them. The New York and New Haven Railroad originated out of Penn Station and could go all the way north to Boston. Contrarily, the LIRR was taking what passengers it could gather to areas out to Suffolk County which had a scarce population at the time. 
On July 1, 1851, the city of Brooklyn (yes it was a separate city at the time), but was and still is technically part of Long Island, banned the LIRR from using steam locomotives; however, the LIRR initially rebuffed Brooklyn's ordinance but later complied.
Early 20th Century
In 1904, the Atlantic Division was completed, and was it transformed into an electrical line in 1908, but it was never used. This is because the tracks were removed when World War I began due to a need for metal. It wasn't until 1934 when Brooklyn and nearby Manhattan experienced a building boom (this is the period when the Empire State Building, the Chrysler Building, Rockefeller Center, as well as downtown Brooklyn office buildings, were being constructed), and subsequently, a large population growth materialized in the area.
Mid 20th Century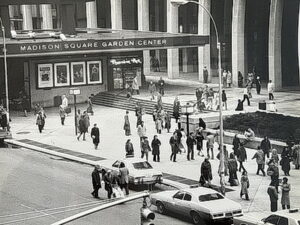 After World War II, due to a large increase in population in Nassau and Suffolk counties, driving to the city was manifesting itself into a traffic nightmare.
A solution was urgently required but the LIRR was initially not the solution since it rendered itself a railroad of neglect for all those previous years. It took a while, many years actually for the LIRR to be improved for daily commuter traffic. Thanks to a $60 million grant from New York State, the Long Island Railroad became a successful reality.
Improvements
2020s Infrastructure Improvements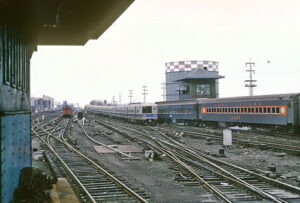 In 2019, the Metropolitan Transportation Authority (MTA) began to invest $5.7 billion in a Long Island Railroad makeover which includes upgrades on tracks, signals, and stations. Moreover, an additional 160 M9A cars have been ordered, and 10 new locomotives.
But the most exciting improvement is the construction of the East Side Station at Grand Central which has recently been completed. Now Midtown East commuters do not have to go to Penn Station and then take the subway back to the east side. They can get off at Grand Central Station and walk to work from there.

This additional station is part of a wider infrastructure development that is going on in the area where numerous super-tall skyscrapers are either under construction or proposed. Each with a connecting tunnel to Grand Central. These are the JP Morgan Chase headquarters at 47th Street and Park Ave, a 1,575-foot tower next to Grand Central called Project Commodore which will replace the existing and former Commodore Hotel, currently being demolished, and the 1,350-foot 350 Park Ave at 51 St. (This one won't have a connecting tunnel).
Moynihan Station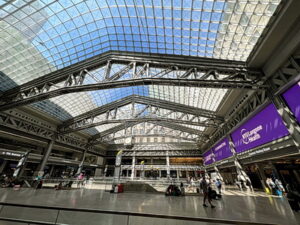 On Manhattan's west side, Penn Station was extended across 8th Ave. where the new Moynihan Station was built, replacing the former 100-year-old James A. Farley Post Office Building. This is an extension for the LIRR as well as the hub for Amtrack.
It took over 10 years for the Moynihan Station to become a reality and cost roughly $1.6 billion to complete. The name is in tribute to United States Senator Daniel Patrick Moynihan.
Hudson Yards
Further west, between 10th and 12th Avenues and from 30th to  34th Streets lies the multi-billion dollar residential and office development of Hudson Yards, which sprang up in only a few years. Most of the complex is built over the LIRR train yards; hence, the name Hudson Yards, which itself is an engineering marvel and rivels the buildings that were built over Grand Central train yards 70 years earlier.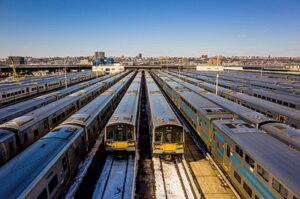 This Hudson Yards expansion is huge and contains an extension for the #7 subway train, which opened in 2015. Although there is no walking tunnel between Hudson Yards and the LIRR Penn and Moynihan stations, it may be only a few more years before a legislator proposes it. If in the case a tunnel would be built, it could extend from the Hudson River to Penn Station, as more building construction (see Empire Station Complex Redevelopment Plan below) is underway in this area.
Empire Station Complex Redevelopment Plan
Former NYS Governor Cuomo has initiated a plan for an additional expansion between Sixth and Ninth Avenues and 30th and 34th Streets. This will include more office buildings and at least three supertalls on Seventh Ave. Also included are new entrances to Penn Station and public space improvements.
Today
Today, Long Island has grown to over 2.5 million people and the LIRR is a fixture for the two counties that comprise it. It is not a convenience, but a necessity for the thousands of riders who would never make it to their NYC workplace without it!