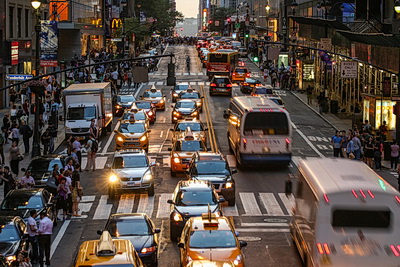 2023 Update! Congestion Pricing is Confirmed!
As of June 26, 2023, the federal government has approved the use of tolls below 60th Street in NYC, from the east side to the west side. The amount of toll to be set has not been determined, but consideration is being given to those who live within this toll zone, as well as those whose income is below $50,000. How they will accomplish the latter is a question, especially for those folks that come from out of state. At this point, Long Islanders who tend to drive into Manhattan, especially on Sundays when parking is free on many streets may now want to consider that the exorbitant prices on the LIRR may not be a bad thing anymore.
With that said, NYC is expecting to get an extra $25B – $40B that will be used to repair the crumpling subway. How all this will fan out remains to be seen, but whatever the outcome, if you are preparing to drive into NYC below 60th Street, be prepared to pay for it.
A Never Ending Roller Coaster Ride
In the age of artificial intelligence and carpooling designed to ease congestion on New York City streets, a policy that has been on the back burner for years is gaining momentum from environmental advocates, but not without opposition from other groups. The contention is ongoing with strong arguments from both sides of the arena, and so it continues. Let's take a look at what exactly congestion pricing is and why so many people have such strong feelings for or against it.
In the Beginning
Congestion pricing was initially introduced by former Mayor Michael Bloomberg in 2012 as part of his "Move New York" initiative, but the plan was scrapped shortly after due to negative public opinion, but the plan wasn't scrapped into oblivion. Keeping it alive are studies that have shown the immense benefits of congestion pricing. One such study suggests that traffic jams cost New Yorkers more than $20 billion every year. No doubt this is one reason why city hall wants to keep it going.
Congestion Pricing – The Specifics
Simply put, it is the control of traffic by placing tolls for those vehicles that enter a specific area of the city. The tolls would be using the cashless system where cameras are placed above the road and read the E-ZPass (or another tag) as the vehicles pass through them.
There are such systems already in place in all of New York City's tunnels, the George Washington Bridge and the Verrazano Bridge. If a vehicle passes through and doesn't have an E-ZPass available for the toll cameras to see, a ticket will be sent to the registrant of the vehicle. 
How Does Congestion Pricing Work?
There are currently two proposed methods.
Cordon charge, in which the price to enter Manhattan below 60th Street would be $11.52 during peak hours and $9.66 during off-peak hours. The charge would be paid by car owners with an E-ZPass tag or those who have registered their license plates with their home addresses. 

Adjacent toll, in which the price to enter Midtown Manhattan would be $5.54 during peak hours and $4.45 during off-peak hours. This would apply to both cars and trucks, with the exception of commercial vehicles making deliveries or pickups in the area.
The tolls can be applied to a specific area such as Times Square or Herald Square or applied via the use of specific transportation modes, such as an increase in tolls for passenger car owners. But for now, the current research is concentrating on vehicles heading downtown from 60th Street.
The Pros and the Cons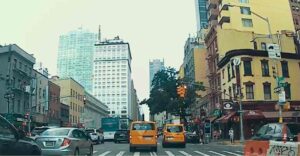 NYC Mayor Adams is continuing to review how to control the large amount of traffic that accumulates in certain areas of the city each day. Hearings are being held to hear both what concerns people have over this proposed policy.
Pros:
Advocates say that current studies have shown that less traffic will lead to lower amounts of pollution, less CO2 emissions, and less noise; subsequently, helping traffic move more efficiently and reducing accidents in these areas.
The benefits would include:
Better Air Quality – The 2019 New York State Metropolitan Air Quality Analysis

predicts that a congestion pricing system in New York City would reduce emissions by 8% and lead to a 10% reduction in ozone-related health issues such as asthma, lung disease, and heart disease. Some of the groups promoting the congestion pricing program include the New York League of Conservation Voters, New York Public Interest Research Group, New York State Clean Air Council, American Lung Association of the Northeast, and Climate Central.

More Efficient Traffic – According to the same study, the implementation of congestion pricing would result in a smoother, more efficient traffic flow through these areas.
Fewer accidents – Fewer traffic results in less chance of accidents on these streets.
More Revenue – The Metropolitan Transportation Authority currently depends on a combination of taxes and tolls to remain financially solvent. A congestion pricing system could generate $1.7 billion in revenue annually.
It is predicted that travel times would decrease by an average of 22%, traffic would be reduced by 35%, and there would be a 20% increase in public transportation ridership. 
Cons:
Placing tolls on NYC roads is not without contention. The major concerns are the following:
Rideshare drivers – Those that would suffer most would be Uber and Lyft drivers, not to mention our standard yellow taxis who drive in and out of these zones many times per day.
Residents – No doubt those that live in these neighborhoods would be paying every time they drive back into their resident toll areas.
MTA alternative – Due to the increasing rate of crime in the subways, many residents and others who would prefer to drive do not like the idea of taking mass transit.
The poor could be hurt the most – Many who oppose congestion pricing believe that it will disproportionately affect the poor over others who could afford to pay the tolls, especially if traveling these roads frequently.
Conclusion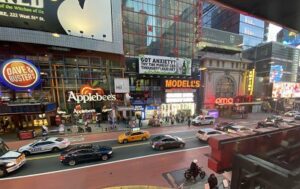 The need for congestion pricing in NYC is still being contested. Studies suggest that implementing a new pricing system would lead to cleaner air, less traffic, and a more efficient city. Mayor Adams is facilitating this process so that congestion pricing does become a reality, but there are organizations that are against it, especially taxi and rideshare drivers, and they will fight to the end by lobbying and protesting the fees that would be placed on them. That being said, it's important to know that any effective solution to the city's traffic problems will require sacrifices from all parties involved. What are your thoughts?