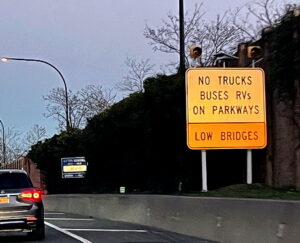 If you have a commercial vehicle, especially a truck that is over 10'6″ high, don't even think about driving on a New York State Parkway! As of the writing of this article, a truck did not heed the warning signs on the Southern State Parkway and crashed into an overhead bridge near the Valley Stream exit. With the many parkways in this state, we will discuss the ones here in Long Island, although the laws for driving commercial vehicles on any of them apply to all parkways in New York State.
These are special roads with a unique design that stands out from other road types. They' have unusual restrictions for drivers, which means trucks and other commercial traffic aren't allowed to use them, and for good reason. Let's take a look at this restriction in more detail.
The Parkways
Long Island parkways are particularly known for their scenic, usually winding roads, but they are also known for their low height overhead bridges, which is lower than those on expressways and highways in the state and this is where the major issue is for truckers.
The Overhead Parkway Bridge Dilemma
As mentioned, the height of the bridges are lower than those on the highways. That poses a serious issue to truckers and other commercial vehicles that have a height of over 10'6″. While most overhead bridges that span across our highways are somewhere in the 20′ range, these bridges on NYS parkways can result in a major accident should a vehicle with a height over the maximum height limit drives trough the bridge underpass. 
Safety and Road Conditions
There is another reason that these bridges were designed this way. Some believe that the parkways were built to be curvy in order to discourage trucks to use them. This way, only passenger cars could use them and not have to be stuck in traffic jams due to the 18-wheelers that would otherwise be on them. Anyone who has driven on the Long Island Expressway would know what we mean when referring to traffic jams!
The Robert Moses Factor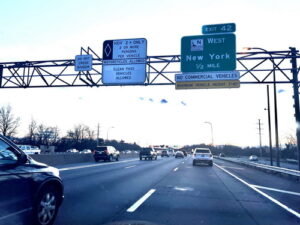 Robert Moses was a prominent highway developer in New York State who was responsible for building many of the highways and parkways. Some say that Moses deliberately lowered the height of the bridges so that it would deter any busses from coming from New York City to Long Island's Jones Beach.
There is no clear evidence that this is a fact and one might ask why were the parkways built that way in Westchester County if Jones Beach was the issue? While we certainty hope that Robert Moses' development plan was for safety reasons only, but some historical infrastructure researchers of NYS highways believe Moses had alternative reasons.
Whatever the reason, the end result is that these overhead bridges are lower than most bridges and vehicles with high ceilings will not be able to get through; thus it is NYS law that no commercial vehicles or RVs are allowed to ride on these parkways.
Environmental Concerns May Also a Factor
Although the environment was not a concern during Robert Moses day, there are concerns about air pollution caused by trucks; thus, this might have been a blessing in disguise for those who travel these parkways and those that live along side of them.
Concluding Words
All in all, there may be a number of reasons why trucks aren't allowed to use the Long Island parkways. Whatever the reason, big rigs are not permitted to drive on them. So all you truckers, busses and RVs, stay clear of the NYS parkways or risk getting pulled over by the police. Worse, not paying attention to the road signs and smashing into one of these bridges.