Introduction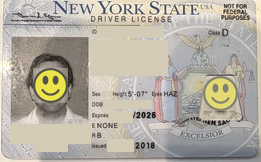 You've decided you're ready to get your driver's license. That's great! Getting your license is an important step in becoming an independent adult. But before you can take the road test, there are a few things you need to do.
In this article, we'll walk you through the steps of getting a driver's license in New York State. We'll help you figure out what documents you need, where to go, and what you can expect during the process. So whether you're a first-time driver or just renewing your license, we've got you covered.
Eligibility Requirements 
You must be at least 16 years old. You must also have held a learner's permit for at least six months and have completed a minimum of 50 hours of supervised driving, 10 of which must have been at night.
If you're not yet of driving age, don't worry—you can still begin preparing for your license now. You can start by studying the New York Driver's Manual, which is available online and at all Department of Motor Vehicles offices. The manual covers everything from traffic signs to safe driving practices, so it's a great resource to have at your disposal.
Required Documents 
When you go to the DMV to apply for your license, you will need to provide several documents. The following is a list of the documents that are required for a new driver's license in New York State:
Proof of identity (e.g., passport, birth certificate)

Proof of Social Security number (e.g., Social Security card, W-2 form)

Proof of address (e.g., utility bill, bank statement)

Proof of date of birth (e.g., passport, birth certificate)

Two forms of signature identification (e.g., driver's license, passport)
Application Process
You first need to complete an application. This can be done online or in person at your local DMV office.
When you apply, you'll need to provide some basic information, such as your name, date of birth, and social security number. You'll also need to provide proof of identity and residency.
If you're applying for a driver's license for the first time, you'll need to complete a vision and written test. You'll also be required to provide proof of your driving education and experience. If you have a valid license from another state, you may be able to apply for a New York State license without taking the written test.
Preparing for the New York State Driver's Exam
Getting ready for the driver's exam? You need to know the laws and regulations and also be familiar with the road signs. You should take practice tests online or in person at your local DMV office to make sure that you are as prepared as possible before taking the official exam.
Some of these tests may cost money, but they are usually well worth it as they help ensure that you have a thorough understanding of all of the rules and regulations before taking your driver's test.
When you feel confident you have mastered all the material, it's time to register for your exam! Make sure you bring two identification forms when you arrive for your appointment.
What to Do After Passing the Exam
Next, you will need to visit your local DMV office, bring the required documents, pay the application fee, and head home with your very own driver's license.
The documents required to depend on your age and the type of license you're applying for, but most likely you will have to bring proof of identity (e.g. birth certificate or passport) and proof of residency (e.g. bills or bank statements). The fee for a standard instruction permit is $70 and a standard driver's license is $80. But don't worry if you don't have enough cash—all DMV offices accept debit or credit cards too!
Don't forget to take a picture of yourself in case the DMV doesn't take photos. And that's it—congratulations! You are now free to drive whatever vehicle your permit or license allows whenever and wherever you want in New York State!
FAQs on Getting a Driver's License in New York State
Here are the answers to some common questions about getting a driver's license in New York State.
Conclusion
When you're ready to take your road test, make sure you are familiar with the test routes. You can find the test routes on the New York State Department of Motor Vehicles website.
Also, make sure you are familiar with the New York State Driver's Manual. The Driver's Manual contains everything you need to know about the rules of the road in New York State.
When you go for your road test, make sure you bring your driver's license and registration card. You will also need to bring a valid driver's license from your home state. Good luck and stay safe!